ClearSounds Showcases New Speech-Enhancing Listening Devices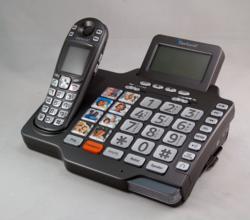 Naperville, Illinois (PRWEB) December 15, 2011
ClearSounds, the leading developer of highly advanced listening devices for the home, office, and on the road, announced today it will showcase and demo several new products at 2012 International CES, the worlds largest consumer technology tradeshow, in Las Vegas, January 10-13, 2012.
One in five Americans has hearing loss, according to a study published in the Archives of Internal Medicine in November. The study found that 20% of Americans above the age of 12 experience hearing loss in at least one ear, and nearly 13% suffered hearing loss in both ears. Because hearing loss could eventually lead to bigger challenges, such as developing dementia or social isolation, meeting the needs of those that currently live with diminished hearing, so they can avoid additional affects on wellbeing and overcome stigma, is an urgent issue as our elderly population grows.
These new ClearSounds assistive listening devices will meet the lifestyle needs of those who have diminished hearing, but are also advanced communication tools for everyone seeking a better speech sound quality in their audio devices, said Michele Ahlman, President, ClearSounds Communications. That is why we emphasize it as listening instead of hearing capabilities; it is not about making it louder, it is about refining the sound quality of speech to ultimately make the speech more understandable.
The ClearSounds products to debut at CES 2012 are:

| | | |
| --- | --- | --- |
| | | "Awesome work" |

| | | |
| --- | --- | --- |
| | | "Your voice makes this project work!" |

| | | |
| --- | --- | --- |
| | | "The client was very VERY pleased with the end result - Thanks" |

| | | |
| --- | --- | --- |
| | | "Great work, Andy" |

| | | |
| --- | --- | --- |
| | | Andy is awesome to work with! Thank you for such a quality product, I look forward to working with you in the future. |

| | | |
| --- | --- | --- |
| | | "The ad sounds great on the air - Thanks" |

| | | |
| --- | --- | --- |
| | | "Highly professional, great variety and incredibly fast turnaround. Completely delighted I would highly recommend Andy Curtis to anyone looking for a top professional." |

| | | |
| --- | --- | --- |
| | | "Always a pleasure" |

| | | |
| --- | --- | --- |
| | | "Nice Vox" |

| | | |
| --- | --- | --- |
| | | Andy was a complete pleasure to work with! He provided quick and professional voice work and I highly recommend his services! |

| | | |
| --- | --- | --- |
| | | "Fantastic work" |

| | | |
| --- | --- | --- |
| | | Really impressed by the result... |

| | | |
| --- | --- | --- |
| | | Good news! It's a wrap :D My boss is really pleased and is now asking if you do can do our TV ads as well lol. Have a great day :) Karen |